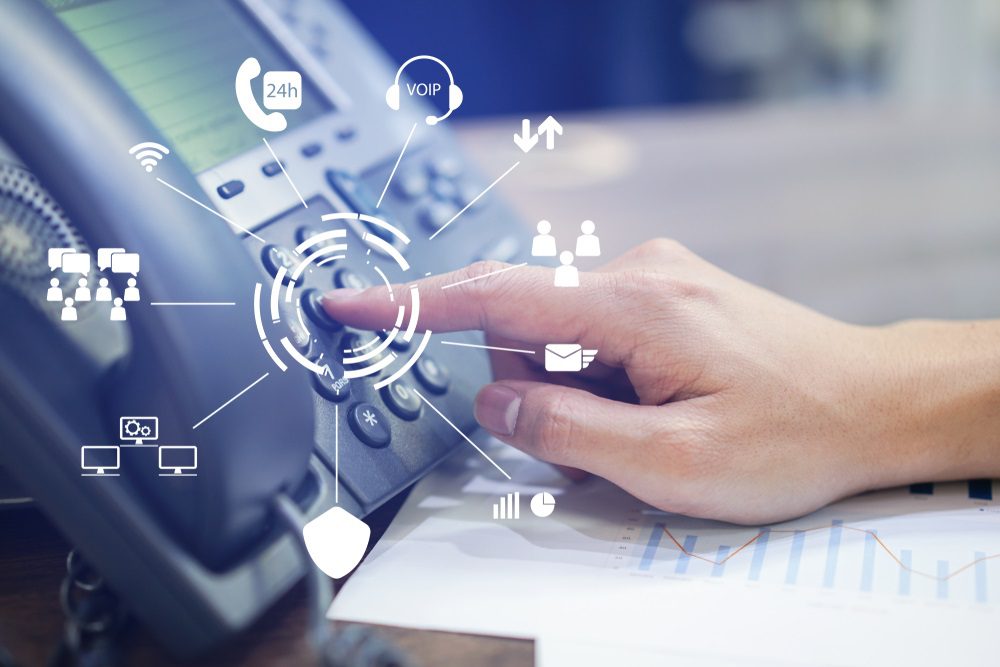 Wondering how business phone systems in Perth adding value to business? Looking for the best business phone system providers in Perth? Searching for the exceptional business phone systems containing all necessary features?
To value your daily business communications, Quantacom Orbit is serving as a leading business phone systems provider in Perth. We manage all your queries and guide you with the best telecom solutions.
Using a VoIP business phone systems in Australia improves the life style of small businesses' operations or you can say working nature overall.
VoIP phone system for small business builds the base with affordability, effectiveness, adaptability and scalability. Businesses can grow without having any hassle of rewiring or adding new phone lines. Business phone systems Perth offers a variety of features designed with modern businesses in mind. Additionally, VoIP business phone systems do not require pricey hardware installations.
Explore Business Phone Systems Perth
Small business phone systems Perth can vitally transition to cutting-edge technology for improved communication and increased productivity as of compatibility with voip phones for the National Broadband Network (NBN). Quantacom offers wide range of business telephones, cloud voice, data solution, IP telephones, wireless telephones and VoIP telephone systems having multiple features like audio/video conferencing and many more.
Tap to the link below and get the best from QC Shop:
Companies and businesses in Perth are always wondering for ways to enhance their processes or operations to beat out the competition. Voice over Internet Protocol (VoIP) system upgrades are one of the most significant changes that businesses are implementing for better and easy communication.
The Growing Demand of VoIP Business Phone Systems in Perth
Businesses phone systems Perth are highly in need of VoIP, particularly for the rise in remote work and the requirement for effective communication. VoIP systems in Perth businesses come with a number of advantages that make them a desirable choice for companies of all sizes.
Motives to Switch to VoIP Business Phone System
Businesses in Perth are switching to VoIP systems for many reasons:
Cost Effectiveness: VoIP systems typically cost less than conventional/traditional phone systems, especially for long-distance and international calls.
Recommended Customer Service: VoIP systems can help you provide better customer service due to features like call forwarding, voicemail to email, and auto-attendant.
Comfortability & Flexibility: Employees can easily make and receive calls whether they are in the office or working remotely because of VoIP systems' ability to be used on any device with an internet connection.
Adaptability: You can easily add new lines to your VoIP system as your business expands without the need for additional hardware or labor-intensive installations.
Considerations Prior to Switching to VoIP Business Phone System
Businesses need to take into account a number of considerations before switching to a VoIP system:
Planning Budget and Expenses
Long-term financial savings are possible for your company if you switch to a VoIP system. VoIP impressively lowers the cost of international calls. Beyond the obvious financial benefits, VoIP offers the chance to combine voice, data, and video applications, greatly increasing employee productivity within organizations.
It's important to take into account the initial costs, such as installation and configuration fees, as well as ongoing monthly charges.
Analyzing the Network Capability
Your internet connection's quality will affect how clear your VoIP calls sound. If your company makes a lot of calls, you'll need a dependable, fast internet connection to guarantee clear, continuous calls.
Process of Migration
The transition to a VoIP system entails multiple technical steps, including hardware programming and software installation. However, this process can be simple and hassle-free if you choose the right VoIP provider like Quantacom. Quantacom is best VoIP solution for your business as trustworthy VoIP service provider with extensive VoIP plans in Perth.
Choose Between an On-Premises VoIP System and a Virtual Solution
Deciding between an on-premises VoIP system and a virtual, cloud-based alternative involves considering various factors. On one hand, an on-premises VoIP system offers increased control and customization possibilities, alongside enhanced flexibility and lower initial expenses. On the other hand, the choice you make should align with your company's unique demands and available resources.
Device Compatibility
To effectively utilize a VoIP system, you must ensure compatibility with your devices, which may include laptops, specialized VoIP phones, or smartphones.
Meeting Organizational Requirements
The ideal VoIP system for your business hinges on your specific priorities and objectives. Quantacom is your trusted partner in delivering efficient and prompt communication solutions, tailored to meet your company's voice communication needs.
Providing the Best VoIP Phone System for Perth Businesses
Quantacom as VoIP phone provider in Australia, offers a comprehensive range of VoIP phone solutions. It tailors for both home and small business use. Our services include business VoIP phone compatible with the NBN (National Broadband Network) infrastructure. We providing reliable and efficient VoIP phone systems to meet the communication needs of Australian customers.
At Quantacom, we extensively collaborate with companies in Perth to choose the finest VoIP solution for their particular requirements. To assist you in getting a business number that accurately represents your company, we provide a variety of VoIP plans. It includes choices for 13/18 and 1300/1800 voip phone number prefixes.
Jump to a VoIP Business Phone System in Perth Today!
Feel free to ask any question about business phone systems in Perth.
Get a Glimpse of What We Offer in Quantacom Orbit Plans