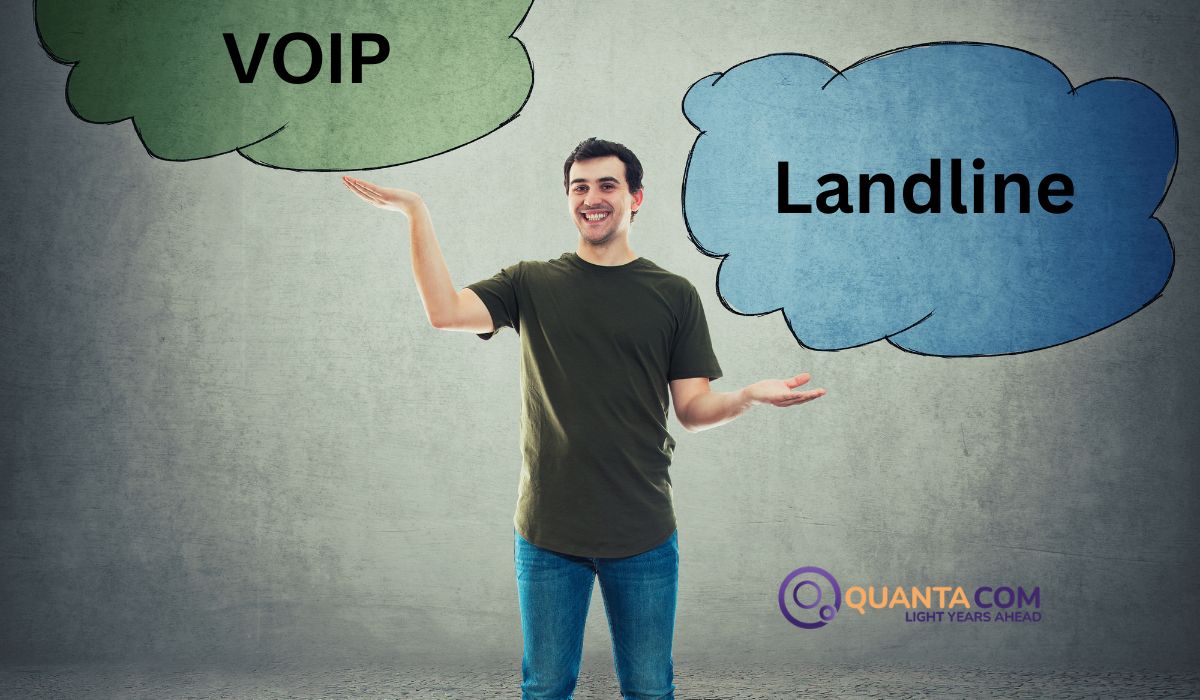 The development of communication technology has significantly altered how individuals connect with one another in the field of telecommunications. For many years, traditional landlines served as the main form of communication, but the emergence of Voice over Internet Protocol (VoIP) has completely transformed the sector.
When choosing a phone service, there are several factors to consider, including pricing and functionality. However, landlines and VoIP are two of the more widely used options. The rapid development of telecom is changing the way we communicate. As landlines are increasingly phased away, VoIP (Voice over Internet Protocol) is replacing them as the new industry standard for corporate phone systems.
Quantacom is a trusted provider of small business phone systems voip, offering a wide range of solutions such as VoIP phones, VoIP telephone systems, and Cloud Based PBX Phone System. By harnessing the power of VoIP technology, businesses can enjoy cost savings, advanced features, and improved communication efficiency. Whether it's a small business or a large enterprise, Quantacom has the expertise to deliver reliable and tailored VoIP phone systems to meet their unique requirements.
In this post, Quantacom compares the features of two different phone kinds and provides all relevant information.
A Comparison of VoIP versus Landlines:
Definition and Functions
VoIP (Internet Protocol) is the term used to describe the transmission of voice and multimedia over the internet.
Transmission of speech signals through copper wires, normally provided by a telecommunications provider, is a component of landline telephony.
Technical Differences:
VoIP delivers speech communications as digital packets over the internet, whereas landline systems transmit analogue signals using more conventional circuit-switching technologies.
VoIP Features:
VoIP calls are typically more affordable, especially for long-distance and international calls.
VoIP allows users to make and receive calls from various devices, including smartphones, tablets, and computers.
VoIP offers features like call forwarding, voicemail transcription, video conferencing, and integration with other applications.
Landline Features:
Landlines are known for their high reliability, as they remain operational during power outages and internet disruptions.
Landlines are directly associated with a physical address, making it easier for emergency services to locate the caller.
Comparison in Australia:
Before getting into further depth, let's take a quick look at Quantacom as the top service provider to aid in your decision-making. Quantacom provides cutting-edge voip phone systems for small businesses australia. Voice calls may now be delivered over the internet rather than over regular telephone lines thanks to a technology called VoIP, or Voice over Internet Protocol. The devices created expressly for making and receiving calls utilising this technology are referred to as VoIP phones, or ip phones. Businesses may take advantage of seamless communication and crystal-clear sound quality with Quantacom's cutting-edge VoIP phone solutions.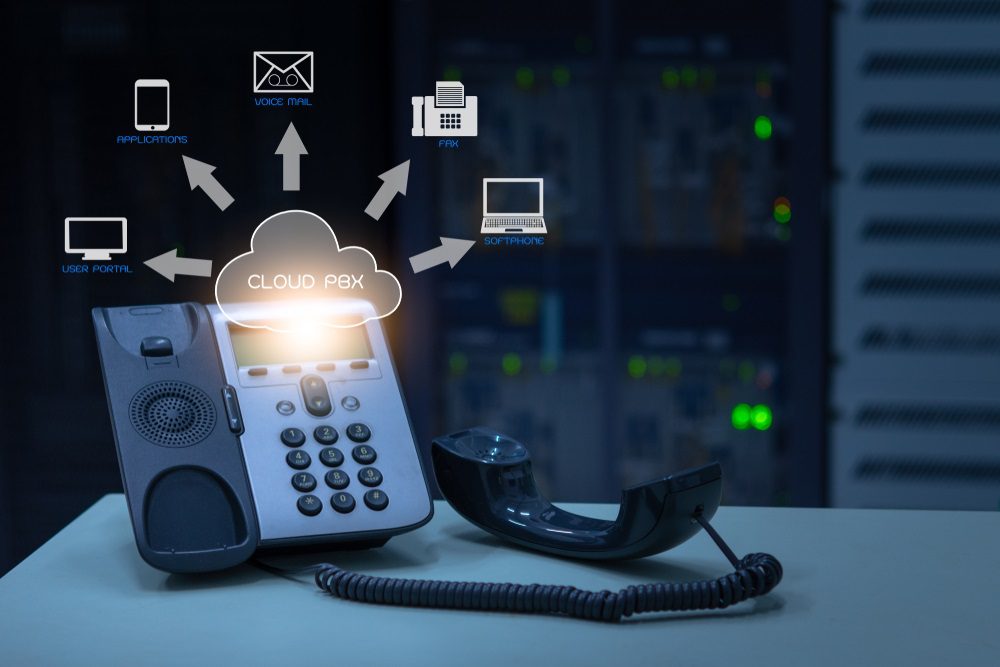 Internet Infrastructure:
Australia has a well-developed internet infrastructure, making VoIP widely accessible.
The quality of VoIP calls depends on the internet connection, so areas with slow or unstable internet may experience call quality issues.
Cost:
VoIP providers often offer cost-effective plans, particularly for long-distance and international calls.
Landline plans may have higher call rates, especially for long-distance and international calls.
Usage and Popularity:
VoIP adoption is increasing steadily in Australia due to its affordability and convenience.
Traditional landline usage is declining as more individuals and businesses switch to VoIP.
Business Applications:
VoIP systems provide advanced features suitable for businesses, such as call routing, virtual numbers, and integration with customer relationship management (CRM) software.
Some businesses still prefer landline systems for their reliability and compatibility with older phone systems.
Importance of VoIP and Landline:
VoIP's Significance:
VoIP can significantly reduce communication costs, particularly for businesses making frequent long-distance calls.
VoIP enables users to stay connected from anywhere with an internet connection, promoting remote work and flexibility.
Landline's Significance:
Landlines continue to be crucial during emergencies when power and internet services may be disrupted.
Some individuals prefer landlines due to their familiarity and the comfort of using traditional phone systems.
Facts:
VoIP Growth:
According to the Australian Communications and Media Authority (ACMA), the number of residential VoIP subscribers in Australia has been steadily increasing over the years.
Many businesses in Australia have switched to VoIP systems to streamline communication and reduce costs.
Landline Decline:
The Australian Bureau of Statistics (ABS) reports a decline in the number of fixed-line telephone connections, reflecting the gradual transition away from landlines.
Landline usage is more prevalent among older generations and rural areas with limited internet access.
What Are the Benefits of Switching from Landlines to VoIP Services?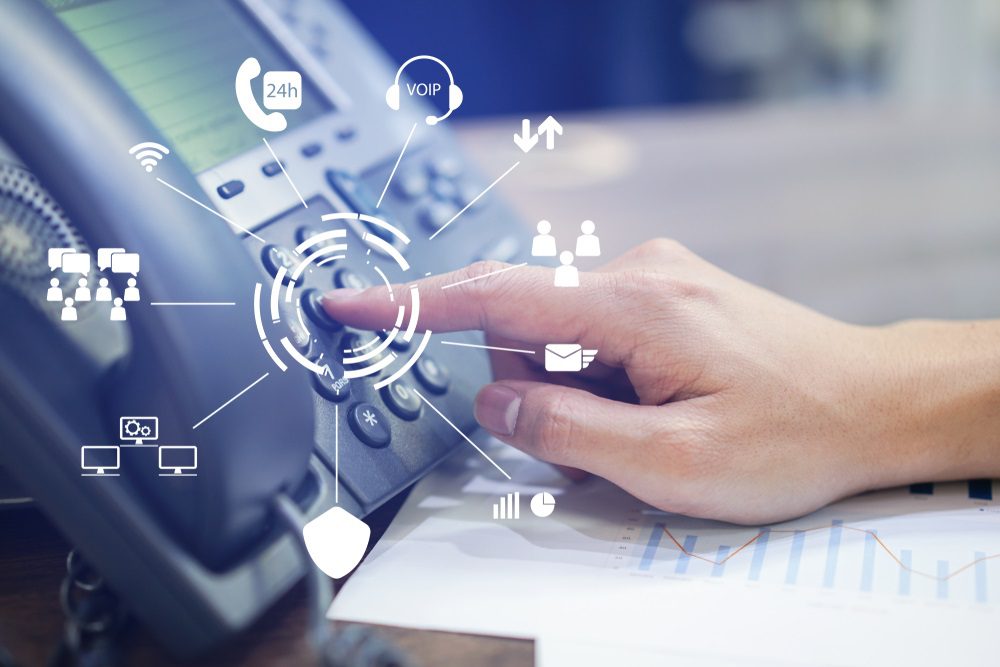 Voice over Internet Protocol (VoIP) services offer a variety of advantages that can be used to meet the changing communication demands of both individuals and organisations.
Here are some of the main benefits of the change:
Expense Savings
The possibility for significant cost reductions is one of the main arguments for switching to VoIP. VoIP calls are frequently far less expensive than traditional landline rates, particularly for long-distance and international communication. VoIP reduces infrastructure and maintenance expenses by doing away with the requirement for dedicated phone lines by utilising internet access.
Mobility and adaptability
From any internet-connected device, including smartphones, tablets, desktops, and VoIP-specific phones, users can make and receive calls. By removing the limitations imposed by physical phone infrastructure, this flexibility enables people and businesses to stay connected while on the go and conducting business remotely.
Added characteristics
VoIP services offer a wide range of cutting-edge features that enhance communication. These capabilities include interaction with other business tools like customer relationship management (CRM) software as well as call forwarding, call waiting, voicemail transcription to email, auto-attendant, video conferencing, virtual phone numbers, and call waiting. These features can improve user experience generally, boost output, and simplify communication processes.
Scalability
VoIP systems are excellent for businesses of all sizes because they are highly scalable. A web-based interface or software can easily be used to add or remove phone lines, negating the need for physical rewiring. This scalability ensures that the communication infrastructure can expand along with the needs of the organisation without experiencing major disruptions or incurring significant costs.
Compatibility with Other Technologies
VoIP services are easily incorporated into other communication systems and programmes. For instance, caller information pop-ups, automatic call logging, and better customer service are all made possible by CRM system integration. Additionally, integration with teamwork tools, like video conferencing systems, instant messaging, and file sharing, promotes effective teamwork and raises productivity.
Portability and Number Flexibility
Users can retain their existing phone numbers or choose virtual phone numbers from different locations, regardless of their physical whereabouts. This portability is advantageous for individuals and businesses that frequently relocate or have multiple office locations, as it ensures consistent communication without disruptions.
Enhanced Voice Quality
VoIP technology has made significant advancements, and in many cases, it offers voice quality that is comparable to or even better than traditional landlines. However, voice quality may be influenced by the reliability and speed of the internet connection, so it is important to ensure a stable and high-bandwidth internet connection for optimal call quality.
Future-proof
As traditional landlines gradually become antiquated, telecom service providers are turning their attention to VoIP and web-based services. By switching to VoIP, people and companies secure the compatibility of their communication infrastructure with developing technologies and market trends.
Advantages of switching to VoIP may differ depending on a number of variables, including the strength of the internet connection, the particular VoIP service providers, and the unique needs of users or businesses. Before switching, it is crucial to conduct in-depth research, evaluate service providers, and determine your unique needs.
Cons of Switching from Landlines: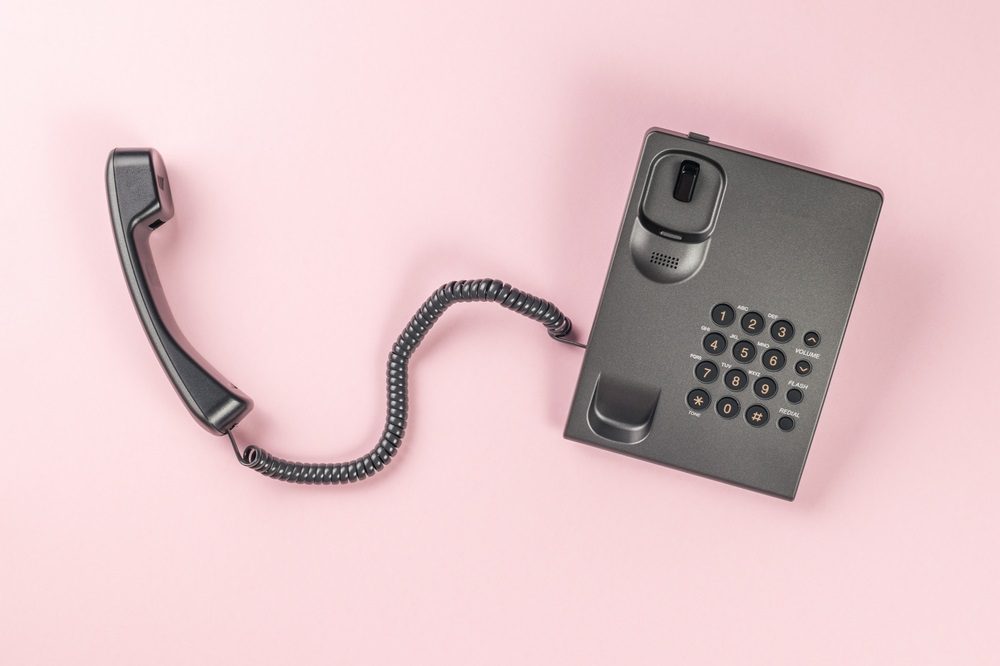 While switching from landlines to Voice over Internet Protocol (VoIP) services offers numerous advantages, there are also a few potential drawbacks that users should consider.
Internet connection dependence
VoIP depends on a strong, reliable internet connection. Call quality and dependability may suffer if the internet connection is sluggish, unreliable, or subject to frequent outages.
Ensure VoIP services are supported by a dependable, high-bandwidth internet connection with low latency.
Rather than relying exclusively on Wi-Fi, choose a physical Ethernet connection because it usually offers a more reliable connection.
Take into account putting in place redundancy measures, such setting up a backup internet connection or using cellular data as a backup when the internet is down.
Power Outages
Unlike traditional landlines, which can continue to work in the case of a power loss, VoIP services depend on electricity to operate the devices and internet routers.
To decrease the effects of power outages, invest in uninterruptible power supply (UPS) systems that offer temporary power backup for essential devices like the internet router, modem, and VoIP phones.
Consider employing battery-operated VoIP phones or mobile applications that can work on smartphones during power outages.
Emergency Services and Location Identification
Because landlines are directly linked to specific addresses, calling emergency services can more easily identify callers' locations. On the other hand, VoIP services might not offer precise location data or might demand extra steps to register and update location information.
Check that the VoIP service provider offers Enhanced 911 (E911) services, which allow the transmission of precise caller location information to emergency services, in order to allay this worry.
To guarantee that emergency services can react appropriately, update and confirm the registered address and location information on a regular basis with the VoIP service provider.
Issues with Quality of Service (QoS)
Despite the significant advancements in VoIP technology, call quality may still be affected by elements like network congestion, packet loss, or jitter. To enhance the call quality:
Give VoIP traffic on the network a high priority and allot enough bandwidth, especially during times when usage is at its highest.
Use Quality of Service (QoS) techniques to give VoIP packets the highest priority over other types of data traffic to guarantee a stable and dependable call quality.
Invest in routers and networking hardware that supports QoS features to improve VoIP traffic management and optimisation.
Security Issues
VoIP services are susceptible to security risks like eavesdropping, hacking, and identity theft, just like any internet-based communication.
Protect voice communications from listening in by implementing robust encryption protocols like Secure Real-Time Transport Protocol (SRTP) or Transport Layer Security (TLS).
Update and patch VoIP system software and hardware frequently to fix any security flaws.
Use intrusion detection systems, firewalls, and other security tools to protect the VoIP network from outside threats.
Users can reduce the difficulties involved in switching from landlines to VoIP services by being proactive and addressing these potential drawbacks, ensuring a dependable and high-quality communication experience. To maintain the best performance and security, it is crucial to select reliable VoIP service providers, seek advice from IT specialists like Quantacom in Australia if necessary, and regularly monitor and optimise the VoIP system.
Conclusion
Quantacom's expertise in voip telephone systems extends beyond just the technology. They specialize in providing comprehensive solutions tailored to voip phone system australia, including voip phones perth. Whether it's setting up a VoIP phone line or implementing a complete VoIP phone system for small businesses, Quantacom ensures seamless integration and exceptional customer support. Their Cloud Based PBX Phone System takes communication to the next level by offering a scalable and flexible solution that is hosted in the cloud, providing businesses with the freedom to expand and adapt as needed.
Frequently Asked Questions
Landline vs. VoIP Questions and Answers
Is VoIP a good fit for my company?
All sizes of companies can benefit from VoIP solutions. They are a great option for organisations looking to remain in touch with staff, customers, and partners since they are simple to use, scalable, and reliable. It is simple to give VoIP a try because many companies provide free trials and various payment options.
Can I use my existing internet connection with a VoIP phone system?
Yes, most VoIP providers offer systems that can be used with your current internet connection. If you have a high-speed internet connection like DSL, your phone calls will be crystal clear. It's advisable to check with your internet service provider to ensure compatibility with VoIP.
Should I keep a landline for emergencies like power outages or fires?
Traditional landlines are not dependent on the power grid, so they continue to work during power outages. However, even if your office experiences a power outage, you can still make and receive calls over a VoIP network using a mobile device.
Are there any drawbacks to using a VoIP phone system?
It is difficult to find significant downsides to using VoIP systems. In the past, businesses with poor internet connections may have encountered difficulties with VoIP phones. However, with most modern internet connections being fast and reliable, this is rarely an issue for businesses.
Why are VoIP phone systems cheaper than landlines?
VoIP phones are typically more cost-effective than landlines because they do not require the same infrastructure as traditional phone systems. Additionally, VoIP systems offer a wider range of features and functionality compared to traditional landlines, providing better value for money.