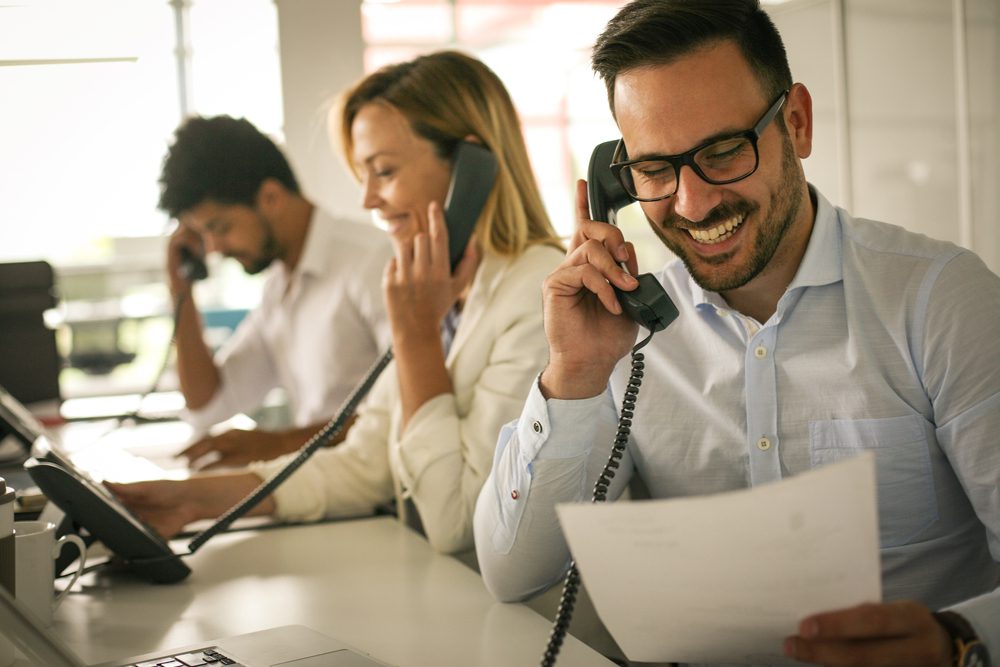 Dear Small Businesses,
Are you looking for the best business phone system in Australia, in 2023?
Curious about what are the features of a business phone system?
Quantacom knows the value of business phone systems as the most important software one can use. A business phone system is a key tool that facilitates seamless communication within and beyond an organization. Our expertise lies in providing top-notch business phone systems, catering to small businesses that demand high-quality cloud phone systems Australia and VoIP capabilities.
As the increasing factor emerges in remote and hybrid teams, shifting to cloud-based phone services has a landmark impact on businesses. Now a days, businesses of almost every size can accessible to the necessary telecom features to make and take in-team, inbound and outbound phone calls. It depends on wherever they got good and fast connection. The voice over internet protocol system offers multiple features which helps in communications and date driven insights converts into sales and user experience.
Stick to the article and discover top 10 business phone systems in Australia along with key features.
How to Choose Best Phone System for Small Businesses?
What Is a Business Phone System?
A small business phone system serves as a communication solution enabling your company to both make and receive business calls, essentially covering the fundamental phone functions. However, it extends further by facilitating call transfers and call forwarding, such as diverting calls to your personal mobile device.
For the majority of small businesses, the primary choice typically involves selecting between two main categories: a business VoIP service utilizing softphones or IP phones, and a PBX system utilizing traditional phone lines.
Optimal phone systems for small businesses leverage VoIP technology, enabling the use of your business's internet connection for the entire communication setup. These business phone systems are continuously evolving into comprehensive communication platforms that encompass text, voice, and video communications, along with enabling collaboration among remote and hybrid team members.
VoIP Phone System
This represents a more advanced and hassle-free option. It harnesses your internet connection for making calls, offers flexible payment options without substantial upfront costs, and is straightforward to set up. Typically, VoIP systems include "softphone" applications compatible with desktops, android, iOS mobile devices, and even other mobile platforms such as iPads.
Additionally, you may encounter phone systems describing themselves as "unified communications" platforms. This relatively recent term often indicates that these phone systems encompass various communication channels beyond voice, such as SMS and instant messaging.
PBX Systems
In contrast, this choice necessitates a more substantial initial investment. Typically, you are required to purchase additional hardware upfront, and it might be essential to enlist the assistance of an IT professional for tasks like adding users or adjusting voicemail settings. While some PBX systems have evolved to simplify these processes, they generally demand more maintenance and effort.
Best Business Phone Systems 2023
In today's rapidly evolving business landscape, efficient communication is paramount, making the choice of a suitable phone system a critical decision for small enterprises. Enter the realm of VoIP (Voice over Internet Protocol), a game-changing technology revolutionizing the way small business phone systems operate. A VoIP-based business phone system offers cost-effective and scalable solutions, accommodating the unique needs of small businesses.
Unlike traditional PBX phone systems, which can be cumbersome and costly to maintain, VoIP leverages the power of the internet to transmit voice data seamlessly, resulting in enhanced connectivity and flexibility. So, what exactly is a business phone system? In essence, it's the lifeline of your organization, a dynamic conduit for communication that can propel your small business towards success, and VoIP is the driving force behind this evolution.
Top 10 Best Business Phone Systems in Australia
1. Quantacom
Quantacom is a leading provider of cutting-edge business phone systems in Australia. We cater to the diverse communication needs of small businesses. Our cloud phone system solutions offer unparalleled flexibility and efficiency, empowering small businesses to streamline their communication processes seamlessly.
Our range of business phone systems, including VoIP phone system for small businesses, ensures crystal-clear communication and enhanced collaboration, all while minimizing costs.
Features of Quantacom Orbit
Australian Ownership
Call Tracking & Routing
Robust Telephone Network
Polite Customer Care
Voicemail to Email
Auto-Attendant
Call Forwarding
Phone Number Recognition
Music on Hold
Customizable Packages
Quote-Based Pricing
24/7 Support
Intercom & Door Lock Integration
Cloud Softphone App
Click to Dial
Call Popups
Inbound/Outbound Notifications
Automatic Call Logging
Assigning ZOHO Users
Paging
Zoho CRM Integration
2. Microsoft Teams Phone
Microsoft Teams Phone is a comprehensive communication and collaboration solution designed to seamlessly integrate with the Microsoft Teams platform. This unified communication experience melds conventional telephony functions with cutting-edge collaboration features to enhance efficiency and simplify communication for businesses of varying sizes. Users can effortlessly place and receive calls, engage in video conferences, and utilize a range of collaborative tools through a single device, whether they are located in the office or working remotely.
Features
Calling and Conferencing
Chat and Messaging
File Sharing and Collaboration
Screen Sharing
Contacts and Directory Integration
Integration with Microsoft 365
Presence Indicator
Custom Status Messages
Call Forwarding and Voicemail
Call History and Recording
Security and Compliance
Third-Party App Integration
3. Nexgen
Nexgen is an Australian-owned firm that is well-positioned to understand regional business requirements. It has a robust telephone network with high speeds and minimal downtime. In the event of a problem, it also provides polite customer care from Australia.
Voicemail to email, auto-attendant, call forwarding, phone number recognition, and music on wait are all built-in features that provide a solid platform for businesses to build their ideas on.
Nexgen's packages are customizable and adaptable, taking into consideration a company's current and future demands. As a result, tariffs are only published on a quote-by-quote basis, making it difficult to compare the company's services to those of other phone system providers.
Features
Robust Telephone Network
Polite Customer Care
Voicemail to Email
Auto-Attendant
Call Forwarding
Phone Number Recognition
Music on Hold
4. Ooma
Ooma is a small-business phone service provider that aims to give a high-quality experience to startups and small enterprises.
As a result, it has fewer functionality but is more cost-effective for businesses with limited resources. Its strategy is straightforward, with built-in capabilities such as a virtual receptionist, caller ID, and conference calling.
Software linkages appear to be the missing piece of the jigsaw. With the inability to exchange data with customer relationship management (CRM) software making it a less scalable solution in the long run.
Features
VoIP Calling
Free Nationwide Calling
International Calling
Virtual Receptionist
Call Routing and Extensions
Voicemail Transcription
HD Voice Quality
Call Blocking and Spam Call Protection
Home Security Integration
Wireless and Bluetooth Connectivity
E911 Service
Online Fax (Business)
5. RingCentral
RingCentral's MVP system is an Omni channel solution that supports texting, video, and phone calls. These connections are completely connected, enabling flexible communication across all mobile devices.
RingCentral provides enterprise-level capabilities for organizations of all sizes, from team chat and video meetings to inbound and outgoing calls. The full capabilities of the suite include call logging, monitoring, and recording, as well as mobile-friendly HD voice and video.
With simple connectors to tools like Salesforce, Microsoft 365, and Zen desk, you can tailor the package to your specific needs while easily sharing data between platforms. With real-time analytics and actionable reporting, this data comes into its own.
RingCentral also has an industry-leading uptime of 99.999% and a carrier-grade infrastructure that runs around the clock to assist organizations from Perth to Sydney.
Pricing is determined by the number of users, with different packages combining various features. This enables for simple scaling as your business expands.
RingCentral is focused to helping your business stay connected with affordability at its core, offering unparalleled uptime, enterprise-grade security, and a slew of options to enable you tailor your communication solution.
Features
Voice Calls and Mails
Call Forwarding and Recording
Video Meetings
Screen Sharing
Webinars
Integrations and APIs
Mobile and Desktop Apps
Security and Compliance
24/7 Customer Support
Call Queues
Analytics
Omni Channel Support
CRM Integration
File Sharing
Task Management
Integration
Team Messaging
6. 8×8
8×8 is a versatile corporate telecommunications provider, offering a range of communication solutions, including contact center capabilities, team chat, business calls, and video meetings. With a strong emphasis on efficiency and productivity, 8×8 caters to the needs of businesses seeking comprehensive communication services.
8×8's base subscription offers essential features such as an auto-attendant, team chat, voicemail to email, and seamless integration with popular office suites like Microsoft 365 and Google Workspace. It acts as a foundation for more extensive communication needs.
For more advanced requirements, 8×8 offers the X2 subscription, which takes communication capabilities to the next level. With the X2 plan, users gain access to unlimited calls, enterprise-level integrations, and secure cloud-based faxing. This subscription is ideal for businesses looking to streamline communication and collaboration within their organization.
Features
Multi-level auto attendant
Call recording ability
Audio and visual voicemail
Caller ID
Call forwarding and transfers
Analytics
Easy admin
7. Nextiva
Nextiva is a market-leading cloud-based communication and collaboration platform for companies of all sizes. It provides a set of communication tools and features designed to boost productivity and improve communication within organizations. Nextiva is well-known for its user-friendly interface, scalability, and a wide range of features that assist businesses in effectively managing voice, video, and team collaboration.
Features
VoIP Phone System
Video Conferencing
Team Messaging
CRM Integration
Analytics and Reporting
Mobile Apps
Call Routing and Auto-Attendant
Call Recording and Management
HD Voice Quality
Security and Compliance
Customer Support
24/7 Availability
8. GoToConnect
GoToConnect has a lot of capabilities, including over 100 tools for calling, team collaboration, video conferencing, and mobile use. This enables customers to develop a bespoke system that fits with their business requirements.
Companies are free to utilize services. Like custom hold music, call management, and screen sharing as needed, with pricing levels based on the number of users.
While this may appear to be a complicated setup, businesses do not need to install any new equipment to get started since GoToConnect handles all ongoing maintenance and updates. They also provide email and phone assistance.
Features
VoIP Calling
Video Conferencing
Messaging
Virtual Phone System
Call Management
Integration Capabilities
Mobile Accessibility
Multi-Platform Support
Scalability
Security Features
9. Aircall
With a cloud-hosted corporate phone system that can be set up in just a few clicks, Aircall has simplicity on its side. It provides calls, video chat, and messaging across devices. It is a quick and cost-effective alternative to a traditional contact center.
With this in mind, it simply interacts with CRM tools such as SalesForce, Zendesk, Hubspot, and Slack. It also provides a sophisticated analytics package to assist firms in tracking KPIs and process efficiency over time.
Because the program requires a minimum of three users, small businesses may wish to explore elsewhere. Prices are dependent on the quantity of features necessary, allowing businesses to choose the best of tools for their needs.
Features
Scalability and Flexibility
Integration
Voicemail Transcription
Call Recording and Analytics
IVR (Interactive Voice Response)
Call Monitoring
Local and Toll-Free Numbers
Call Routing
Call Transfer and Forwarding
Call Tagging and Notes
Historical Call Logs
Customizable Greetings
Real-time Dashboard
10. Avaya OneCloud
With its successful IP Office platform, Avaya has had a long-standing presence in online telecommunications. The OneCloud service expands on this reputation by offering a variety of scalable choices for enterprises & companies of all sizes.
Avaya OneCloud runs through a public cloud via a third-party provider for small to medium-sized businesses, allowing customers to benefit from continuous service without the requirement for software and hardware buy-ins.
Larger businesses choose between a private or hybrid cloud solution, with server hardware hosted on-premises or in one of Avaya's data centers. At this pricing point, the platform may be completely configured to meet the demands of the organization.
These alternatives combine to produce a unified communications system that combines phone, video, and message data into a single scalable system.
Features
Voice over IP (VoIP)
Video Conferencing
Messaging and Chat
Contact Center Solutions
Team Collaboration
Mobility Support
Cloud-Based Solutions
Analytics and Reporting
Security
Scalability
Key Features of Business Phone Systems in Australia
Understand the important Aspects of Business Phone Systems in Australia
Reliability
Ensuring a stable internet connection is crucial for both in-office and remote workers when considering new phone systems for your business. Reliability and 24/7 help desk support are essential for small business phone systems in Australia to prevent system downtime, which can significantly impact business operations.
Cost Considerations
Prior to making a decision on a business phone system, it is crucial to carefully evaluate the potential financial implications in both the short and long term. This entails a thorough examination of expenses related to phone system packages, hardware setup, call charges, and additional features. Seek out a provider that offers unlimited VoIP calls and video services to help you reduce costs.
Installation Convenience
The ease of installation stands as the foremost factor motivating businesses to transition to smart phone systems. Small business phone systems should not demand extensive setup time, as this could inconvenience your sales and support teams. A new office phone system should come equipped with valuable features and user-friendliness to enable your employees to begin using it effortlessly.
Voicemail to Email
Voicemail is a critical feature for business phone systems, allowing customers and clients to leave queries or questions when they can't connect. With PBX systems, you can easily forward voicemails to your email inbox. The advantages of voicemail to email include remote workers being able to check voicemails from their devices, ensuring timely responses and creating a digital archive for relationship-building, training, and data analysis.
Auto Attendant
An automated answering system is a valuable feature in business phone systems. It greets customers automatically and provides necessary information, efficiently directing callers to the required extension, saving time and money.
Scalability
As your business aims for growth and market dominance, your phone system should also scale accordingly. Consider upgrading packages, switching to a hosted PBX system, and adding more users, handsets, and phone lines as you grow.
Fax to Email
To support environmental sustainability, opt for the email feature to reduce paper waste. This feature converts faxes into PDF files and sends them to your inbox, helping you better manage and store data.
Audio While on Hold
Improve the hold experience during calls by offering a custom playlist of calming music or informative audio announcements. This can be a platform for important information or marketing messages.
Mobile-Friendly
With a global increase in mobile VoIP calls expected, make sure your phone system accommodates mobile devices, allowing agents to take calls from laptops, tablets, or cellphones. This promotes hybrid work and cost efficiency.
Online Portal
For hosted PBX or cloud-based systems, having an online portal is crucial for managing phone systems. It enables you to track your company's performance through data analysis and offers insights into key performance indicators (KPIs). You can easily toggle call features, generate automated reports, and manage conversations effectively, using data to drive development and improve your business operations.
Conclusion:
Quantacom distinguishes out as a reliable partner for organizations looking for the finest business phone systems Australia. Our comprehensive services include a wide range of communication-optimization options, such as VoIP capabilities for small business phone systems. We understand the particular needs of small businesses and provide personalized solutions, such as PBX phone systems.
In particular, to provide effective call handling and a professional image. A Quantacom business phone system not only provides small businesses with cutting-edge communication technology, but also the tools they need to compete effectively in today's volatile market scenario.