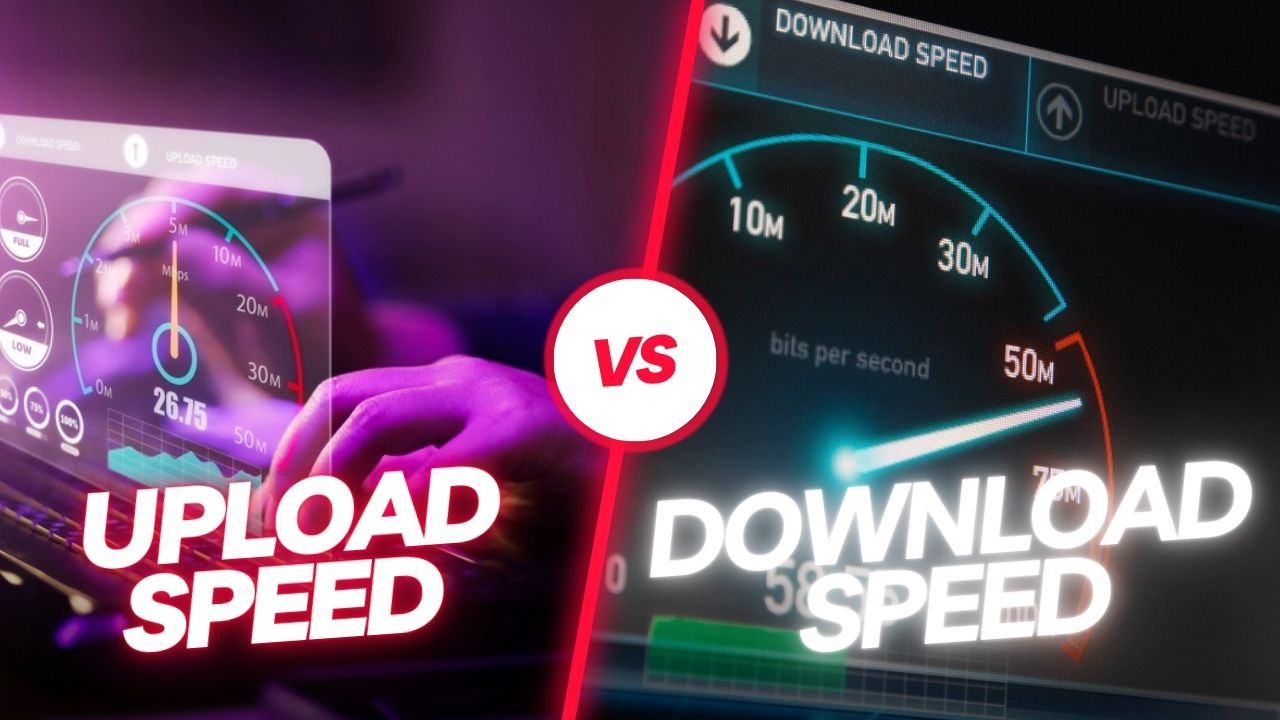 In a world fuelled by digital interactions, the speed at which data flows through the digital veins of the internet has become an essential aspect of modern life.
From streaming high-definition movies to hosting video conferences with colleagues around the globe, the efficiency of these activities hinges on the upload vs download speeds.
So, what really sets upload speed & download speed apart?
And how does each impact our online experiences?
Join us as we embark on a journey to unravel the intricacies of upload download speeds in the world of gig-speed Internet connectivity inclusive of NBN and Broadband Internet services.
Decoding Upload vs Download Speeds
Imagine the internet as a highway with data vehicles racing to their destinations.
At its core, the concept of upload and download speeds is similar. While the upload download speeds might sound technical, the impact they have on our daily online usage is substantial.
It's like the difference between sending a package and receiving one; each involves a distinct direction and pace.
Internet Speed Terms
Bandwidth: Think of it as a highway for data – how much information can travel at once on the internet road.
Mbps (Megabits per second): This measures speed – how fast data moves on that internet highway.
What is Download Speed?
Download speed is the bread and butter of many online activities.
Whether you're
streaming the latest blockbuster movie,
downloading a research paper for an assignment, or
grooving to your favourite tunes on a music platform,
You're relying on the download speed to swiftly fetch the content you desire.
The higher the download speed, the smoother these activities become, eliminating the dreaded buffering and slow loading times that can disrupt our digital enjoyment.
What is Upload Speed?
While download speed takes centre stage, upload speed plays a vital supporting role, facilitating the sharing of your content with the world.
Video calls with colleagues across continents
Streaming live gameplay to an audience
Sending a photo via social media.
All of these activities rely on a solid upload speed to ensure smooth transmission of data from your device to others.
Upload Speeds vs. Download Speeds
In essence, the divergence between upload and download speeds hinges on the direction of data travel.
Download speed is the rate at which data, be it images, videos, files, or music, flows from a remote server to your device.
Upload speed represents the velocity at which data is sent from your device to another server or device on the Broadband Internet.
While it might not be as frequently discussed, upload speed is the unsung hero that powers our ability to video call friends, engage in live gaming tournaments, or seamlessly collaborate on cloud-hosted documents.
What's a good Internet speed in Australia?
Let's address additional questions about the fastest internet speed like,
What is good upload speed?
What is good download speed?
Before we move further, it's essential to understand the benchmark of what constitutes "good" upload download speeds.
According to the upload download speeds test analysis from March 2023, the average fastest internet speed in Australia was 788.6 Mbps during all hours and 724.8 Mbps during busy hours.
The average upload speed was 46 Mbps during all hours and 45.8 Mbps during busy hours.
| | | |
| --- | --- | --- |
| | All Hours (Mbps) | Busy Hours (Mbps) |
| Average Download Speed | 788.6 | 724.8 |
| Average Upload Speed | 46 | 45.8 |
These numbers serve as a reference point against which you can measure your own connection's performance.
Factors Affecting Internet Speed
The road to the fastest internet speed isn't always smooth, as a plethora of factors can impact your upload download speeds.
Chosen NBN/Broadband Internet service plan
Type of connection [fibre, cable, satellite, wireless, DSL (digital subscriber line)]
Network traffic
Distance from the Internet Service Provider (ISP)
Equipment Quality
Wi-Fi interference
Presence of malware or viruses
Power of your device
Number of devices linked to your network
Your Internet Service Provider (ISP)
Highly trafficked websites can briefly slow down your internet's speed.
Choosing the Fastest Internet Speed
The introduction of the NBN and the spread of 4G/5G home internet speed plans have presented consumers with the gift of choice.
But how do you filter through the many options?
And pinpoint the ideal fastest internet speed for you.
Let's Begin by evaluating key factors.
Picture your space (business or house) as a bustling digital hub.
How many occupants and devices will concurrently share the internet?
Next, assess your online activities, like web browsing, streaming, gaming, or file transfers. Each activity has its fastest internet speed requirements.
Smart TVs, gaming consoles, mobiles, tablets, and more contribute to the demand in case of household usage.
Understanding NBN Speeds
NBN is categorised into different speed tiers. Each tier caters to specific needs.
The most popular NBN speed menu features NBN 50, 100, 250, and 1000 plans. These tiers define your download and upload speeds, guiding your choice toward an optimal match.
Also, your Internet Service Provider (ISP) role in delivering the promised speeds can't be overlooked.
Sharing your connection to the Internet is akin to splitting a pizza; more people at the table means smaller slices for everyone.
So, Choose Your Internet Service Provider (ISP) Wisely!
Selecting the Right NBN Plan | Speed Tiers
Let's explore your connection to the Internet for the specifics of each speed tier.
NBN Plans

Features and Benefits

NBN 50

– Download speeds ~ 50Mbps.

– Ideal for HD streaming, browsing, and social media.

– Balanced performance and affordability.

NBN 100

– Download speeds ~ 100Mbps.

– Perfect for bustling households and small businesses.

– Supports large file downloads and multiple connections.

NBN 250

– Download speeds ~ 250Mbps.

– Suited for data-hungry households with numerous devices.

– 25Mbps upload speed benefits remote work and gaming.

NBN 1000

– Download speeds ~ 1000Mbps.

– Tailored for sizable households and small businesses.

– Unleashes high-performance possibilities.
The Fastest Internet Speed for Your Business
In the fast-paced world of business, a reliable and efficient internet connection is essential. Choosing the fastest internet speed can impact productivity, communication, and overall business operations.
This guide will help you navigate the process of selecting the fastest internet speed for your business.
Review Your Business Needs
Before delving into the intricacies of internet speed options, it's crucial to assess your business's unique requirements. Consider the following factors:
| | |
| --- | --- |
| Factors | Considerations |
| Number of Users | Determine simultaneous user count. |
| Online Activities | Identify tasks: browsing, emails, streaming, video conferences. |
| File Transfers | Consider the regularity and urgency of uploads/downloads. |
| Cloud Services | Assess reliance on cloud-based apps. |
| Remote Work | Account for remote workers and tools. |
Understand Business Internet Speeds
Business internet speed plans often differ from residential plans. Providers offer specific tiers tailored to the demands of business operations.
Here are the common fastest internet speed options:
| | |
| --- | --- |
| Plans | Characteristics |
| Basic Business | Moderate speeds for small setups. |
| Standard Business | Faster speeds for mid-sized operations. |
| Business Fiber | High-speed, reliable, for data-heavy tasks. |
Factors to Consider For the Fastest Internet Speed
Selecting the fastest internet speed involves a deeper exploration of crucial factors:
| | |
| --- | --- |
| Factors | Considerations |
| Bandwidth Requirements | Calculate the total required bandwidth. |
| Future Scalability | Plan for future business growth. |
| Upload Speeds | Evaluate upload speed needs. |
| Dedicated vs. Shared | Decide on dedicated or shared bandwidth. |
| SLAs | Look for SLAs ensuring uptime & performance. |
Bonus Tip: Service Level Agreements (SLAs): Look for providers offering SLAs that guarantee a certain level of uptime and performance. This is vital for mission-critical operations.
Custom NBN Plans by Quantacom | Your Internet, Your Way
Don't settle for one-size-fits-all internet plans.
The Quantacom affordable connectivity program aims to offer low-cost internet options.
Select the fastest internet that perfectly matches your business needs.
With Quantacom Gig-speed Internet, downloading large files becomes a matter of seconds.
With Quantacom Every Click Is Faster!
Month-to-Month NBN Plans
| | | |
| --- | --- | --- |
| Plan | Pricing | Speed |
| Business 50 | $75/month | 50|20 Mbps |
| Business 250 | $197/month | 250|100 Mbps |
| Business 1000 | $299/month | 1000|400 Mbps |
3-Year NBN Plans
| | | |
| --- | --- | --- |
| Plan | Pricing | Speed |
| Business 50 | $900/year | 50|20 Mbps |
| Business 250 | $2364/year | 250|100 Mbps |
| Business 1000 | $3588/year | 1000|400 Mbps |
*All Quantacom plans are inclusive of SLA
Supercharge Your Business Connectivity with Quantacom
In a world where connectivity is a cornerstone of daily life, understanding upload and download speeds empowers you to tailor your internet plan to your unique needs.
Bear in mind that achieving the fastest internet speeds is often influenced by different factors. By taking into account these factors you can harness the full potential of your connection to the Internet.